Facebook is good for you!
They may seem like a total waste of time, but are sites like Facebook actually improving staff communication skills?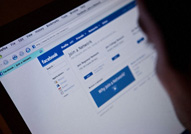 Many companies see social networking sites as a blight, terrified that employees will while away precious hours looking at their cousin's wedding photos or stalking high school sweethearts rather than doing their proper jobs. As a result, some have blocked the likes of Facebook and MySpace altogether. However, respected think-tank Demos takes a contrary view: it reckons that these sites actually help staff develop better relationships with their colleagues and clients, boost innovation and even make your workplace more democratic (which you may or may not see as a good thing…)
Demos suggested that the current climate might encourage employers to take a more authoritarian line with their staff, in a bit to squeeze as much productivity out of them as possible – and this could mean cracking down on the use of these sites. But Demos argues that their popularity proves that this is how people like to communicate and interact these days – they find the process very intuitive, so it encourages them to develop closer relationships with the people around them (there's nothing like flicking through someone's holiday snaps to break down barriers). And since it can also foster better knowledge sharing with customers and clients, banning the sites could end up being bad for your business.
There's also a trust issue, of course. If you treat your staff like naughty teenagers, they'll be tempted to behave like them – but if you trust them to use these sites sensibly and in moderation, they will hopefully repay that trust and be grateful for it. That's the kind of thing that will help you attract and retain top talent – and encourage them to think for themselves. 'Allowing workers to have more freedom and flexibility might seem counter-intuitive, but it appears to create businesses more capable of maintaining stability,' Demos' Peter Bradwell told the BBC.