Facebook opens the door to advertisers
As Facebook finally rolls out its new advertising system, some of the world's biggest companies are rubbing their hands with glee at the thought of tapping into its vast database. But its users are likely to be less enthusiastic – and rivals are already joining forces to try and steal its thunder. Is this the beginning of a new era for Facebook, or the beginning of the end?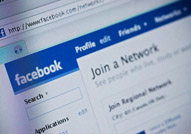 Facebook's new system allows companies to target its users on a number of levels. From this week companies can build their own Page, to which they can add content and applications that will help them connect to their customers. Various behemoths like Coke, Sony and Blockbuster are already up and running (though their content seems to largely consist of complete strangers expressing their mutual love for fizzy drinks).
Companies can also use Social Ads, whereby their adverts are spread virally through friend networks – a bit like the 'user recommendations' Amazon has used for a while. But the most controversial aspect of the system is that advertisers also get access to fairly detailed information about users' habits and inclinations. Not surprisingly, this has not gone down well with privacy campaigners.
When Microsoft bought a minority stake in Facebook recently, it valued the site at $15bn. Since it currently makes hardly any money, it needs to find some way of monetising its massive user base if it's going to start justifying this kind of exorbitant valuation.