Facebook in time-wasting shock
Facebook is good for many things – getting in touch with old friends, sharing photographs, meeting people with similar interests, making youthful entrepreneurs richer than Croesus – but it's also the scourge of many employers.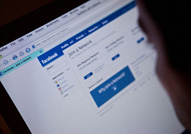 One in seven Facebook users spends their entire working day logged onto the social networking site, according to a new survey from anti-virus company Sophos, while a further 8% are logging on up to ten times a day. In total 60% admitted to regular Facebook usage at work – which doesn't exactly bode well for productivity.
Facebook, which was recently valued at $15bn, has already signed up 50m users. So if you believe Sophos, that's about 7m people spending their entire day writing on FunWalls, Poking each other and checking their movie compatibility.
Only 40% claimed they never check the site at work at all, a figure which presumably includes people with either a relaxed attitude to the truth or extremely effective firewalls. Indeed, lots of big employers (including Lloyds TSB, Credit Suisse and Transport for London, according to Sophos) have now blocked the site altogether in a desperate attempt to get their feckless staff to do some work.