Facebook's Zuckerberg posts $500m charity donation
The co-founder and CEO of Facebook, billionaire Mark Zuckerberg, has donated 18 million shares in his company to a US charity.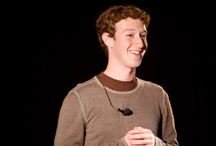 The king of the social networking website and one of the world's youngest billionaires gave the extremely valuable chunk of his company to the Silicon Valley Community Foundation, so that it could 'look for areas in education and health to focus on'.
It is Zuckerberg's second such donation in two years. In 2010, he gave a $100m windfall to invest in troubled local schools in New Jersey.
Zuckerberg's total shareholding in Facebook is worth about $11bn, but he has joined the Giving Pledge, a scheme created by Microsoft founder Bill Gates, which is for entrepreneurs who pledge to give at least half of their money to charity.