How failure breeds success
For entrepreneurs such as Moshi Monsters's Michael Acton Smith it was the major setbacks they faced early on which sowed the seeds of flourishing businesses. Hannah Prevett reports on the turnaround tycoons.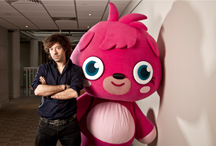 There was a time when failure was a dirty word, but change is afoot. It goes without saying that failure is never the intended outcome when starting a business. But the reality is finally beginning to dawn that the happy-ever-after version of business success, presented by shows such as Dragons' Den or The Apprentice, is a myth. The unpalatable truth is it is rare that any business is an overnight success; much more likely it's going to be an incredibly long, hard slog with a fair number of false starts. In fact, for many, failure is just the beginning of the journey.
The word itself, 'failure', used in this context, is a slippery one. Just how should it be defined? For Alliott Cole, a principal in the early stage investment team at VC firm Octopus, it is a grey area. 'Success and failure are never that binary,' he says. 'Often, you'll find an entrepreneur has just had an absence of success. That isn't necessarily the same as failure.'
David Gann, professor of innovation and entrepreneurship at Imperial College, agrees that failure and success are rarely black and white. He cites the example of the Millennium Bridge across the Thames, which had to be closed after two days because of its famous wobble. 'Everybody said it was a big failure, but it was turned into a success because the engineering company behind it, Arup, learnt about what had gone wrong with the bridge design, published its findings and then actually won new work off the back of it. So it turned it into a business success as well.'