'Failure is not the opposite of success' - Rish Mitra, Blippar
LAUNCHPAD: Blippar co-founder and CEO Rish Mitra talks work-life balance (or lack of), augmented reality and putting his face on the £20 note.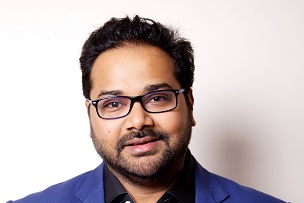 'We're a very philosophical company,' says Rish Mitra, although unlike a lot of thoughtful entrepreneurs, he's actually got the commercial success to back it up. His augmented reality (AR) advertising startup, Blippar, boasts a client list that any marketing firm would kill for - including Heinz, PepsiCo, Maybelline and Nestle. But his vision goes way beyond advertising.
Born in Delhi, India, Mitra faced pressure to focus on his studies and become a doctor or engineer, but eventually opted to drop out and pursue tech entrepreneurship, inspired by the likes of Bill Gates, and his father who was a scientist and engineer doing creative things in the renewable energy sector.
'Having grown up in that environment I used to be hugely fascinated by entrepreneurs' stories. To just write a piece of code and change the world was hugely attractive to me,' he says.