Have you fallen foul to the new breed of commuter snoopers?
Doing work on the go could be putting your sensitive business info at risk from other commuters (especially if they're marketers).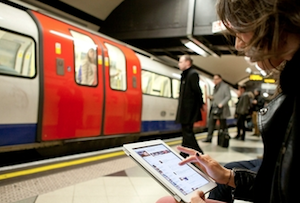 Hundreds of people's colds, pickpockets hunting for badly-stashed wallets and that damn gap were once the most pressing threats to commuters. But now it seems, those of us who try use commuting time wisely by getting some last minute work done, are under threat from prying eyes and could have sensitive business secrets stolen.

A whopping 72% of commuters look over their fellow neighbours' shoulders at what they are working on according to a new survey and one in five of these surreptitious snoopers have seen sensitive information.

According to the research carried out by data protection specialists, Iron Mountain, marketing professionals are the worst offenders both in terms of snooping and being snooped. Nearly a fifth of those in marketing said they frequently sneak a peek at the work of their fellow commuters - compared to just 6% of legal professionals (well, they're probably well-versed in the penalties for corporate espionage).
Marketing professionals are also the most likely to whip out confidential material and start working on it – at 35%. Only 15% of PA and admin staff are likely to start working on classified stuff on the way in and out of work – a relief for chief executives everywhere.

A train is the worst place to pull out your laptop or tablet and start working, apparently 58% of snoopers look over shoulders on trains. Planes are a close second with 42% but interestingly, one in five at director level think airport lounges are the best place to carry out some information spotting. (Probably because they can do so with a G&T in hand).

'While practical and inevitable, working on the go could be exposing employers to significant information risk, including data breaches and the loss of competitive advantage,' said Iron Mountain's Christian Toon.

'Most of us have seen documents left in plain sight, left on display on a portable device or left behind, albeit temporarily, as a fellow commuter pops out of the carriage to take a phone call or grab a sandwich.'

Vigilance is a must. Luckily, fellow commuters, this stern warning does not come without a smattering of advice. According to the security conscious folks at Iron Mountain, there is something called a laptop privacy screen (hardly a new invention), which as you probably know makes it impossible for people to view a screen from a side angle. Genius. We've had a look and now you can pick these up for around £40 online (they used to be quite a bit more expensive).

It also advises you don't leave confidential papers lying around and conceal your devices to stop them getting nicked. Unfortunately you can't put a price on common sense.