Fancy a boardroom seat with your divi? Co-op looks for member directors
If you've got top-team ambitions and have spent 1,000 Co-op points this year, listen up. The funerals-to-supermarkets mutual is hiring member directors.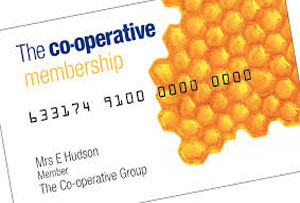 The Co-operative Group is looking for two member directors to join its board and help push through chief exec Richard Pennycook's ongoing turnaround plan. Applicants must possess, amongst other things, a valid Co-op membership card and have spent at least 1,000 membership points with Group businesses within the last year.
Now not only having, but using, a membership card is a pretty unusual pre-condition for would-be board directors of a large retail organisation. We doubt that Tesco's Drastic Dave quizzed many of his newly-hired NEDs on their favourite ClubCard rewards before he welcomed them aboard (although you never know...).
But the Co-op is not really a regular retailer – not only do its operations Include funerals, electrical goods and insurance as well as supermarkets, but with around 8m members it is also Britain's most popular mutual (that's an organisation that is owned by its members, not quite the same as the oft-cited John Lewis which is owned by its employees, but the same kind of idea).