Fasten your seatbelts - BA nosedives to record loss
British Airways' results were twice as bad as analysts expected - and pushed the share price down 6%.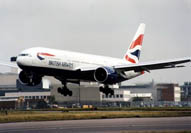 So why has BA - which last year posted record profits of £922m, don't forget - come down to earth so spectacularly and so fast? Well, air travel is notoriously sensitive to the prevailing economic climate, so BA has been hit very hard by the current recession. And because the slowdown has been global in reach, the carrier hasn't even been able to rely on better economic conditions outside Europe and the US to keep it going. Add in the parlous state of the pound – the aviation business is largely dollar-denominated – and you've got a pretty gruesome set of circumstances for any firm to deal with.
The results make pretty awful reading. Overall passenger volumes are down over four percent to 33.1m, which might not sound like much, but the vital business class volume – the high-margin trade which generates much of BA's profit – is off a whopping 13%. That's got to smart a bit.
BA has cut 2,500 jobs, reduced capacity and pared costs to the bone as far as possible, and today announced its intention of doing more of the same (engineering and 'other costs' still rose noticeably last year, so it arguably has a way to go). And despite this, it's had to burn through a quarter of its cash to keep going, reducing reserves to £1.4bn.