Fathers fear prioritising family over work
Many new dads feel unable to take advantage of their paternity rights, finds the EHRC...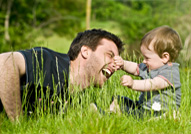 Research from the Equality and Human Rights Commission has found that 45% of working fathers are not taking the paternity leave they are entitled to. Fathers are currently entitled to two weeks at £123.06 a week, and then 13 further unpaid weeks, but many only take a few days, or don't bother with a break at all. So are dads getting a raw deal, or do they simply not want to take time off?
A bit of both seems to be the conclusion, and men also apparently feel they can't restructure their work around their families, say the report's authors. Despite having the right to ask for flexible arrangements, 44% of fathers say they're afraid to broach the subject with their boss because they think it will harm their career prospects, while 36% worry that doing so would produce questions about their commitment.
None of which bodes very well for the Government's plans to introduce fully-fledged 'parenting leave' by 2011. This involves some of the paid leave currently available only to mums being made available to share with dads. So stay-at-home fathers could take up to six months off, with their partners' agreement of course.