FEATURE: Cashing in on the poor
A swathe of businesses like Wonga are deliberately targeting Britain's poor. Are they being helpful or exploitative?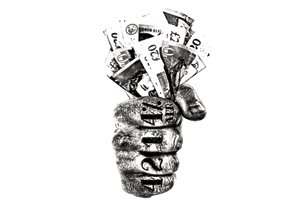 Payday loans. Door-to-door lending. Rent to own. Penny auctions. Pound shops. Think that the credit crunch has been bad for business? Not for these recession-resistant few. Over the past four years, nourished by the downturn, accelerated by leaps in technology, firms in these sectors have provided quick cash or goods to those who couldn't secure credit from traditional sources. The poverty business is booming.
Brits are getting poorer every day. Real pay - the amount we earn adjusted for inflation - hasn't just dipped, it's fallen faster than a lead balloon. A report compiled by the Institute of Fiscal Studies (IFS) into average incomes shows that last year alone, mean household income fell by 5.7%, from £542 per week to £511. That's the largest one-year fall in income since records began at the start of the 1960s.
The Department for Work and Pensions has a catchy euphemism for the growing numbers of people living on or beneath the poverty line: Households Below Average Income (HBAI) - households earning less than 60% of the national average. Last year, 15% of the UK population - 9.1 million of us - fell into the HBAI bracket. That's equivalent to the population of Sweden.