Fed chair Janet Yellen just destroyed Asian markets
It was Yellen's first press conference yesterday. She learned the hard way that a single wobble can cause chaos.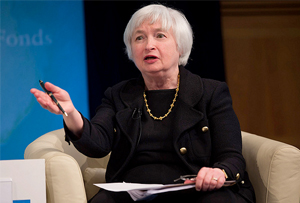 You know how chaos theorists say when a butterfly on one side of the world beats its wings, it causes a hurricane on the other side? It turns out that applies to economists, too: when the brand new chair of the Fed on one side of the world fudges a bit during a press conference, stock markets on the other side plummet.

Yesterday was, admittedly, Janet Yellen's first press conference as chairman of the US Federal Reserve, but her performance didn't fill investors with confidence.

Earlier on Wednesday, the Federal Open Market Committee (the US equivalent of our Monetary Policy Committee) had replaced its 'Evans Rule' (forward guidance, essentially), which says it won't rate interest rates from 0.75% until unemployment drops to 6.5% and inflation rises to 2.5%, with the following language:
'The Committee continues to anticipate, based on its assessment of these factors, that it likely will be appropriate to maintain the current target range for the federal funds rate for a considerable time after the asset purchase program ends, especially if projected inflation continues to run below the Committee's 2% longer-run goal, and provided that longer-term inflation expectations remain well anchored.'
Analysts wanted to know what 'a considerable time' meant – and slightly panicked, Yellen said it means 'something on the order of around six months or that kind of thing'.

Given asset purchases are supposed to end in the autumn, that would mean interest rates start to rise in spring 2015 – way earlier than anyone had imagined (analysts had expected the end of 2015). Cue chaos: the S&P 500 closed down 0.6%, Nasdaq dropped 0.6% and the Dow fell 0.7%. Further afield, Japan's Nikkei 225 fell 0.5%, Hong Kong's Hang Seng dropped 0.9% and the Australian S&P/ASX 200 fell 0.8%.

This morning things aren't looking much brighter: the FTSE 100 is down 1.2%, sterling is down 0.1% against the dollar, and the euro has dropped 0.4%.

Yellen's problem is exactly the same as Mark Carney's problem: 15 months ago the Fed issued its forward guidance, and now it's realised recovery is still shaky, despite having nearly hit those targets. As in the UK, unemployment is now alarmingly close to that benchmark rate, at 6.7% in February (up from 6.6% in January), although inflation is 1.1%.

The good news, though, is that the Fed essentially seems optimistic about the state of the economy.

It appeared 'to to be more confident about the transitory nature of the recent slowing in economic activity and in the sustainability of the underlying economic recovery,' said analyst Gennadiy Goldberg from TD Securities.