Female CIOs in Canada shatter the glass ceiling?
Female Canadian CIOs now earn more than their male counterparts, according to a survey out this week.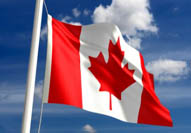 The salary survey (published by the CIO Association of Canada – who else) finds that women in the CIO role are paid on average $156,000 basic, compared to just shy of S155,000 for their male equivalents. Admittedly, that's a pretty modest boost, but on the other hand most general management pay surveys across the western world tend to suggest a pay gap in the other direction of between 8% and 20%. So it's a result worth taking a second look at, especially if you are a woman, you work in IT and you fancy a spell in the large bit of North America that isn't the USA.
The gap gets slightly larger when bonuses are factored in, with women earning $189,000 to men's $186,000. Predictably there is no shortage of speculation as to why this might be; one school of thought proposes that as women in IT are pretty unusual in the first place, there may be some rarity value in those who make it as far as CIO. But that doesn't explain why female directors generally, who are also rare, still get paid less than their XY chromosome-equipped oppos.
Another idea is that, as the CIO role itself is relatively new, it is less well-embedded in traditional male-dominated corporate hierarchies. Which might be true if more women were getting the job, but they don't seem to be – only 18% of those surveyed were female.