Female of the species more ambitious than the male
Female entrepreneurs are now more confident than their male counterparts about their companies' prospects...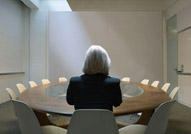 Some interesting news to mark Women' Enterprise Day on Wednesday: female entrepreneurs are now the most confident about their ability to flourish in the current climate. A survey by NatWest and support services provider Everywoman has revealed that 88% are predicting business growth over the next five years, compared to 74% of men. And with over 600,000 majority-owned female-owned businesses in the UK, that would be quite a shot in the arm for our ailing economy…
In fact, NatWest and Everywoman have tried to quantify just what this might be worth to us. The average female-owned business apparently has a turnover of £200,000 – so if just 40% of these companies manage to boost turnover by 25% (to £250,000), that would add an extra £12bn to UK GDP. A slightly arbitrary calculation, perhaps, but it shows just how substantial the sums involved could be.
It also shows the growing confidence of female entrepreneurs – as we're constantly told these days, this is a tough climate to run a small business, but they seem unbowed in the face of some pretty fierce economic headwinds. Everywoman co-founder Karen Gill suggested this was 'testament to the progress we have made as a sector in such a short space of time'. Apparently healthcare entrepreneurs are the most gung-ho, with at least half predicting 25% growth in the next five years, closely followed (more surprisingly) by those in the marketing/ media industry.