Festive greetings from Nelson Peltz
Nelson Peltz clearly isn't feeling the spirit of Christmas. The activist investor has told Cadbury to boost its margins, or he's really going to start making life awkward.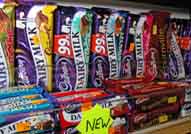 When the Cadbury Schweppes board opened an envelope from Peltz yesterday, they were probably expecting it to contain something with glitter on the front and a picture of Santa Claus. Instead, it housed a string of not-very-friendly demands from his investment vehicle Trian, suggesting that Cadbury needs to raise its profit margins to the same level as its best-performing peers.
Cadbury has already promised to try and boost confectionery margins from 10% to something in the 'mid-teens'. However, Peltz reckons that's not good enough – it should be shooting for the 'high teens', as per the likes of Hershey and Wrigley.
Peltz has a 4.5% stake and a history of activism, so he could kick up quite a fuss if the board won't play ball – particularly since his recent tie-up with the deep-pocketed Qatar Investment Authority. Trian's letter to the board said that if progress wasn't achieved, it would become 'significantly more active in evaluating all of our alternatives as a large shareholder' – which as threats go, is about as subtle as a brick.