The festive guide to Secret Santa etiquette
December has finally arrived, and with it the usual panic about what to buy colleagues for Christmas. Ben Read from gift company NPW creates the ultimate cheat sheet for your office Secret Santa.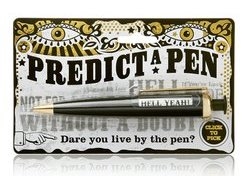 So what's the secret to buying that perfect fun gift, whilst still staying on budget, and - most importantly - not insulting anyone in the office? Well, it all depends on who you pull out of the hat. That's why I have taken the liberty of selecting a few hot products that are likely to go down a treat this Christmas.

The Boss - CEO
If you're unlucky enough to draw the short straw and end up with your boss for Secret Santa, go classic with a hard, ruled moleskin notebook, as used in the popular TV show Dragon's Den (RRP £13.50). Guaranteed to impress.

The Money Man - CFO
For the CFO, try the 'Make Money' kit, which comes with two pads of blank bank notes plus rubber stamps and ink pads to create any currency. A simpler version of quantitative easing, available for £7.99, and much more fun to chat about down the pub.

The Creative One - CMO
It can be tough trying to please those wacky, arty types. How about an invisible ink pen to keep his/her brilliant marketing ideas a secret from the competition (or just to pass notes around the office)? And just £2.99 too.

People People – HR
Trying to grab that corner office? Make sure that you keep on the good side of HR. If you're gifting to somebody in personnel then why not consider a Predict a Pen, which is on hand to give an unbiased and emotionally detached second opinion on decisions. RRP £4.99.

Grafters – Middle Management
If you end up having to buy a Secret Santa gift for the long-suffering middle manager, help them to organise their chaotic to-do lists with these Get the Hint stickies. RRP £5.99.

Schmoozers – Sales Team
To help a member of the sales team nurse their hangover after a night out with a big client, go for a Super Soothing Ice Pack to soothe headaches - and prevent any mid-afternoon dozing. RRP £6.40.

Geeks – IT
Never get a call back from the IT helpdesk? Wreak your revenge by boggling their binary minds with an Incredible 3D Doodle kit for £4.40.

Organisers – Admin
Say thank you to Office Manager and PA for organising your life by buying him/her a Pop! Gun. He or she can then let off a little steam - and have endless fun - by shooting harmess foam bullets at the back of your head. RRP £6.90.

Interns
For those that know the names of every member of One Direction, go for a 3-in-1 Nail Art pen (an ironic nod to the sterotype of interns sitting around picking their nails) that lets you paint their nails, create a design on them and seal it with a clear nail varnish over the top. (RRP £7.50). Or a Fart Sound Machine. It does what it says on the tin and can be hidden in pockets. RRP £5.98.



Ben Read is studio manager at NPW, designer and supplier of impulse products and stocking fillers to the high street.