FIFA looks set to lose its £178m Sony sponsorship
World football's governing body has been hit by sponsor woes in the wake of the Qatar report.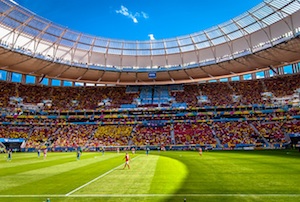 Fifa's difficulties are only getting worse as reports today suggest Sony is planning to drop its sponsorship of world football's governing body. Sources told Reuters that the Japanese electronics giant would end the relationship, which has lasted eight years and cost ¥33bn (£178m), as it looks to 'prioritize its restructuring efforts,' although Sony is yet to confirm this.
Fifa has been feeling the heat from sponsors lately as ongoing controversy over its handling of the Qatar world cup bid corruption allegations rumbles on. Michael Garcia, the American tasked with investigating claims the selection process was rigged has continued to reiterate his calls for the entire report he prepared to be released.
Earlier this month Emirates airline announced it would not be renewing its sponsorship of the 2018 and 2022 world cups. It initially cited 'an evaluation of FIFA's contract proposal which did not meet Emirates' expectations,' but an executive was later quoted by reporters as implying the allegations were a consideration.