Finally banks embrace P2P lending, as Santander gets into bed with Funding Circle
LAUNCHPAD: Instead of positioning itself as a threat to traditional banking, Funding Circle is cosying up with the high street lender. It looks like a good deal for both.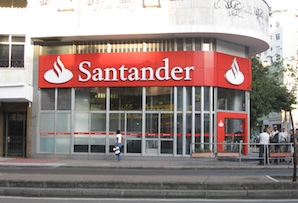 Peer-to-peer (P2P) lenders have been touted as one of the biggest threats to traditional banks, but now they're getting into bed with them. Santander will be referring small businesses it turns down for loans to P2P platform Funding Circle, who in return will promote the bank's current accounts and other services. MT can just feel the love.

P2P startups had made a lot of noise about how they were different to banks, who have been notoriously stingy with small business lending since the financial crisis. Indeed, Funding Circle director Ed Wray told MT in February that while P2P lending wouldn't do away with high street lenders, 'at the margins... we'll both be going for the same types of businesses'.

However, Santander had actually been in negotiations with the P2P lender for almost a year now and the deal, which a spokesperson for Funding Circle said doesn't include money changing hand, looks like it could be win-win for both parties.
The bank can palm off potentially riskier customers while looking like a do-gooder and Funding Circle, which has facilitated loans of £290m for more than 5,000 businesses since its founding four years ago, will get more business and a higher profile.

'Peer-to-peer financing is also a useful way to introduce people to the concept of investing in entrepreneurs; an important element in a healthy enterprise economy,' Santander UK's chief exec Ana Botín said in a statement.

'In Santander we have found a fellow challenger brand that shares our commitment to putting small business customers' needs first,' Funding Circle boss and co-founder Samir Desai said. 'They have created a blueprint for other banks to follow.'

And other banks could well follow: the agreement between the two isn't exclusive. Moreover, the government has said it will force banks to refer customers they turn down for loans to alternative finance providers, although it hasn't yet published forthcoming plans on how exactly that will work. However it pans out, it looks like P2P lending, which hit £1.5bn at the end of May, is going mainstream.