Finance teams fear change
The next time you're thinking about selling your company to a rival or merging two departments together, spare a thought (and possibly some cash) for your number crunchers.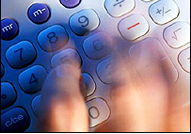 Most finance teams are struggling to cope with organisational change and greater regulatory pressures, according to a new report sponsored by audit software specialists ACL.

Of course, the bad news is that change is par for the course in big business these days. Independent research firm Loudhouse surveyed senior finance professionals at 300 big companies in the UK, US and Germany, and found that 52% had been through this kind of event in the last year. Almost half reckoned their financial systems were no longer fit for purpose as a result, with one in three saying they were making regular errors. Which sounds a bit worrying for the people upstairs.

What's more, with the stink of Enron and WorldCom still lingering over the corporate world, companies are desperate to keep their noses clean – after all, a sordid accounting scandal can knock a big chunk off the share price. So finance teams are under much more internal and external scrutiny than ever before.

As the frustrated geologists at Loudhouse put it, all these pressures are like 'tectonic shifts' that can often expose 'fault lines' in an organisation's processes – flaws that were either there already, or are exacerbated by the extra demands. Unfortunately, by the time your finance team realises that marketing has been fiddling its expenses, or your work experience kid has lost millions on unauthorised FX trading, it might be too late to save your company's battered reputation.

The answer, apparently, is for managers to keep a constant eye on the finances – rather than abandoning the whole thing for the auditors to sort out in March. Sixty percent said 'proactive monitoring and measurement' was the way forward – which is good news for ACL, whose software (believe it or not) allows them to do exactly that. That said, so far only 17% of respondents are actually doing this, which is presumably why ACL is commissioning reports like this.

It certainly proves one thing: when Sheryl Crow sang 'A change will do you good', she clearly hadn't given due regard to the finance function.