How to find your next leader
Developing future leaders is a priority for most companies. But how do you identify, nurture and - crucially - retain a future leader from all the possible candidates and in an increasingly competitive environment?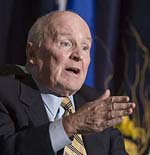 W Earl Sasser and Das Narayandas are co-chairs of the Harvard Business School's Program for Leadership Development, which trains executives with ten to 15 years of experience to become better leaders. In interviews with HBS Working Knowledge, Sasser and Narayandas argue that for the organisation, talent is key to competitive advantage. But they point out that managing talent is a complex and difficult task.
"Leadership is a multi-faceted term," says Narayandas, a professor of business administration with a speciality in marketing. "Are you managing yourself, are you managing upwards or the people below or laterally, or the firm, industry, society? You can lead at so many levels. That complexity is only going up. It's not just a question of leading a small team. It's about leadership in ideas, in actions."
Narayandas adds that the challenge is made even more difficult by the fact that, increasingly, people are working in the global economy, amid rapid commoditisation and hyper-competitive environments. "To be able to be flexible and use the right approach at the right time and change as the situation demands is going to be tough. Not everybody can do it. That's going to distinguish the true leaders from people who are capable but not leaders."
According to Sasser, employees in large and small organisations share the advantage of accessing talent-identification systems. Big companies often have formal programmes led by individuals whose sole responsibility is to identify talent, while within small companies talented individuals naturally stand out. But medium-sized companies often struggle to identify talent because they lack the infrastructure and human resources capabilities, he says.
Another problem is that not every potential leader will see themselves as such. "There are some that can see it in themselves; there are some that need to be informed," Sasser says. "Talent needs to be nurtured: many times it takes someone else who can recognise that an individual can think beyond their job, can think bigger, and has the potential to make a bigger impact," he says. "It's a combination of the environment, talent seekers and raw talent together that bring the right kind of people to our programme."
Future leaders must avoid limiting their expertise to one area of the business, Narayandas adds. To lead a company, it is essential to break out of a function in which you excel and aim for a bigger picture of the organisation and its world, he says.
"If they are not trained the right way, they can spend the next 20 years building deeper and deeper skills in a narrow aspect," he says. "What they might not be asking themselves, or pushing themselves to ask, is: 'What if I had knowledge of other areas of the business? It would actually inform my decisions in a better way. I could pursue more productive lines of action for the firm'."
Not everybody will turn out to be another Jack Welch, or will want to, Sasser says. He argues that having an enjoyable and challenging career does not necessarily mean becoming a CEO. The key to career success is to draw on a variety of leadership styles at appropriate times.
Source: HBS Working Knowledge
Review by: Nick Loney