Finding clear waters
Leaving behind the intense rivalry of the competitive marketplace sounds like business nirvana, but what is a blue ocean strategy?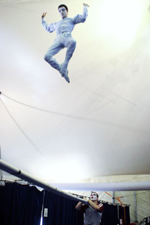 When Henry Ford introduced the Model T on to the automobile market in 1908, he called it a "car for the great multitudes, constructed of the best materials". It was available in only one model and, later, in only one colour, but it was priced at a level that made it affordable to the general public. Before the Model T, carmakers in the US concentrated on building custom-made vehicles for wealthy clients. Instead of competing with them, Ford decided to appeal to the mass market. Although he didn't know it at the time, he had discovered his own personal blue ocean.
The launch of the Model T is perhaps the best known of the 150 or so 'strategic moves' studied in Blue Ocean Strategy, one of the most talked-about management books of recent years, published in February 2005. In its first year the book sold over 1 million copies, making it the fastest-selling title in the history of its publisher, Harvard Business School Press (it has been translated into 32 languages and has been sold in 179 countries). It has turned its authors, W Chan Kim and Renee Mauborgne, into two of the most sought-after management consultants in the world. In December, INSEAD Business School, where Kim and Mauborgne both work, announced that plans are under way for a blue ocean institute, combining teaching and research, that will look for applications of the book within business and beyond.
But the excitement generated by Blue Ocean Strategy has yet to translate into proven practice. On the surface, some of the examples cited in the book seem to provide compelling evidence for the existence of a certain type of business strategy that can indeed provide unlimited market space, free from competition. Yet the companies cited in the book had never heard of 'blue ocean strategy' and might not have accepted the term even if they were familiar with it.