Finding your next business model
In September last year, Bill Ford, chairman of Ford Motors, sent an email to his entire workforce which announced: "The business model that sustained us for decades is no longer sufficient to sustain profitability."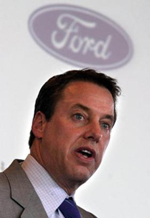 Ford was reacting to news that during 2005 the company effectively made a $2.4 billion loss making cars. The only reason Ford made a profit overall was because of its financial services arm and the acquisition of Hertz, which between them made $4.4 billion. His comments have been echoed by Microsoft CEO Steve Ballmer, who recently said: "It's alternative business models that we'll have to compete with or embrace."
According to a report by Chris Robson, chief executive of UK-based consultancy Edengene, traditional business models are in crisis as companies face the shortening of business cycles. Robson claims that the increasing pace of technological change, combined with heightened competition from the emerging economies, has trapped many companies in short-term thinking habits, playing with pricing, changing products and occasionally entering new distribution channels -- without tackling the underlying problems in their market.
The inability of many established companies to look at the big picture and institute wholesale reform has made it easier for new entrants to break into a market by challenging the business models used by existing players, according to Robson.
Robson writes: "It is clear that if companies cannot, do not or, worst of all, will not respond to the changing circumstances around them, the problems will pile up and they will become extinct. If they merely react to circumstances and do not actively evolve their model, they may just survive. But only if they proactively adapt to their circumstances, build their capabilities and look to continually change their business model, will they evolve, improve and succeed."
Edengene, which specialises in business growth consulting, has identified four main categories of business model innovation. In order, these are: price-based innovation, product or service-based innovation, distribution-based innovation and market-based innovation. It tracks these approaches across an upward curve, with the amount of disruption caused to the company and the level of financial return rising with each successive approach.
The report cites Virgin as one of the few companies that consistently deploys business model innovation across all four categories. "[Richard] Branson has created a group with a remarkable ability to identify when an industry is ripe for disruption, and with what category of business model innovation," it says.
In his conclusion, Robson argues that all companies can apply business model innovation if they take a structured approach and learn to reference business models in other sectors in order to 'lift and drop' them. However, he says that business model innovation must be planned carefully, in particular with regard to the maturity of the market, and the organisational capability and commitment of the company concerned.
Review by: Nick Loney