Which firms gain from the oil price slump?
Brent crude drops to $76 a barrel ahead of the OPEC conference. That's a good thing, right?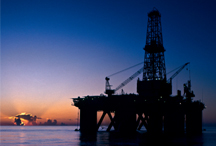 These days, it's not just the Gulf of Mexico that's slick with black gold. Since the summer, oil prices have dropped dramatically to $76 (£48) a barrel for Brent crude and $72 for West Texas Intermediate (the American stuff), having been around $110 for most of the last four years. The main reason for this stomach-squeezing drop is the abundance of oil from 'unconventional means', otherwise known as fracking.
Fracking has doubled production in the US since 2008, to over nine million barrels a day, flooding the global market. OPEC, the state-level oil cartel that held the world's economy to ransom in the 70s, isn't happy. Its share of world production has fallen to 40%, and its ability to control prices has faded.