First Class air travel plummets
Gone are the days when consumers and businesses were prepared to pay a few hundred quid extra to luxuriate in Business Class. According to the International Air Transport Association, premium travel has dropped 3.5% in Europe and 2.4% in the US.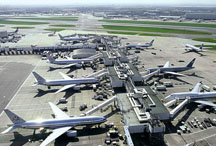 The European airline industry will go into the red this year, reckons Iata, posting estimated losses of £750m as a whole. Why? Because travellers who would previously tick the cheeky 'upgrade to first/business' box are now making do with cattle class.
As of July this year, Iata's data shows a 2.4% drop in premium bookings on previously lucrative North Atlantic routes, and an even more worrying 3.5% drop in European premium travel. 'European airlines are expected to post the largest loss of any region,' reads the report. 'While governments and the European Central Bank have taken measures to shore up confidence in the euro, these have been fraught with political difficulties.'
Overall, Iata predicts that world airline profits will reach around £2.56bn in 2012, down from £5.25bn last year.