FirstGroup freezes dividend following West Coast debacle
Transport operator FirstGroup has announced it will maintain its dividend at the same level as last year because of West coast main line franchise fiasco.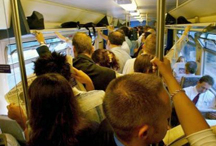 The West Coast main line deal is currently under investigation, but in the mean time, FirstGroup has reported a 42.4% fall in pre-tax profits to £48.7m in the six months to the end of September. Whilst the drop is mostly because last year saw a one-off gain from the UK Bus pension scheme (which was not repeated this year), the firm has frozen its interim dividend anyway. Revenues for the group actually rose 2.6% to £3.25bn, but bosses want to wait until the firm's prospects in the rail sector are clearer – then it will decide on a figure for its full-year dividend payment.
So what's all the fuss about? Well, FirstGroup was appointed to take over the running of the West Coast main line from Virgin Rail, but had the rug pulled from under it by the government last month because of a flawed bidding process. The collapse of the deal is a boon to Richard Branson, who went public with his anger when his firm originally lost out on the deal. FirstGroup's chagrin is understandable: last month it released a statement saying: 'Our bid would have delivered a better deal for West Coast passengers, the taxpayer and an appropriate return for shareholders.'
It's also frustrating for the company to have forked out so much on bidding only to find itself back at square one with the tender process. It spent around £12m putting together various bids throughout the UK this year, and it may now have to spend a chunk more in a second attempt to beat off Virgin Rail. In the meantime, Virgin Trains gets to continue operating the line for at least another nine months while the Department for Transport comes up with a new competition for the bidders.