FirstGroup sees wheels come off in US
A sign of the times for Barack Obama? The British owner of US Greyhound buses has seen profits slump...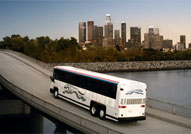 FirstGroup, the British transport company that gets 2.5bn people from A to B every year, saw profits slide 24% to £54m in the six months to September thanks to its latest acquisitions in the US. The group, which already operates the iconic Greyhound bus service, has just bought a US bus operator called Laidlaw, which runs the yellow school buses you always see on TV – and the one-off costs of the deal pushed profits down. On the other hand, revenues were up as more people opted for public transport – showing that high fuel prices are not necessarily bad news for everyone…
You might not know an awful lot about FirstGroup, but you'll be familiar with their operations: its four UK rail franchises include First Capital Connect and First Great Western, and it runs more than 20% of all our buses. And it was delighted to report today that more of us are leaving the car at home and taking public transport instead: rail passenger revenue was up nearly 10%, thanks to a 6% growth in passenger numbers, while bus revenues were up nearly 8% (on a 2% increase in passenger volumes). 'We are encouraged by the growing number of people switching to public transport from other modes of travel,' beamed CEO Sir Moir Lockhead.
Overall, revenues increased to £2.8bn, a more-than-healthy 57% jump. Of course as you might guess from the fact that revenue rises are outstripping passenger increases, this is partly because it's been increasing its fares – not something it's shouting about in today's results, although it will argue this is fair reward for its improved service quality and operating performance. Either way, this enabled it to boost profit margins, despite the fact that it was paying more money for its vehicle fuel than at any other time in its history.