Fitch threatens US ratings downgrade, Obama shrugs
President Obama has more to worry about than whether the US is AAA or AA+-rated. But the clock is ticking.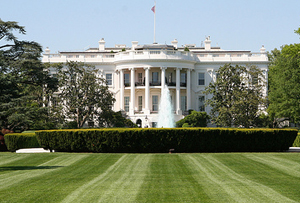 Amid all the drama of the Great Shutdown and its ensuing Looming Debt Disaster, credit ratings agency Fitch has stood up and said, in a bossy voice, that unless the US gets its act together, it will remove its AAA credit rating.

In the grand scheme of things, this is unlikely to be President Obama's biggest worry: partly because if Fitch does remove the US' AAA rating, it will be the last of the 'big three' ratings agencies to do so, so in a sense, that horse has already bolted. And partly because, well, he currently has a great big clock hanging over him that's ticking down the seconds to certain economic doom.

For those who have been on a long sea voyage, or perhaps a historically accurate re-enactment of Robert Scott's trip to the Antarctic and therefore without any communication with the outside world, the two sides of the US government have about 24 hours to reach an agreement over a) raising its debt ceiling and b) (less urgently) its finance bill.

If they fail, the US won't be able to make interest payments, its bond yields will rise, international bond yields (many of which are pegged to US debt) will rise, and the world will be plunged back into the economic quagmire (if some analysts are to be believed, anyway).

So far, things aren't going brilliantly: yesterday, Republican leaders quashed a plan to raise the debt ceiling until February and end the shutdown temporarily. A couple of other ideas have been rejected by the Democrats, on the grounds that they make changes to Obamacare. In the end, it looks like the Republicans are going to have to be the ones to back down – but they're playing hardball negotiating the terms of their surrender.

What now? Looking at this rationally, the chances of the countdown timer hitting zero and there not being a deal are very slim. But it could happen, and there's no point pretending the consequences wouldn't be pretty dire: as International Monetary Fund boss Christine Lagarde said on Monday, it would 'mean massive disruption the world over and we would be at risk of tipping yet again into recession'.

A note from Capital Economics points out, though, that even if the worst were to happen, the four horsemen of the apocalypse won't actually be putting in an appearance on Thursday. It'll take a little while longer than that.

This handy Treasury schedule (nicked from the FT's Alphaville blog) shows when things will start to go properly bad:


Looking at this, Capital Economics reckons current cash reserves of $36.5bn would cover the daily shortfall of $2.5bn until 6 November. Some argue that, because of fluctuating tax revenues, the day of reckoning could be as early as 24 October. So even if the Senate can't reach an agreement, the sky falling will be a long, drawn-out process.