Five blue-chips with amazing offices
Jazzy offices aren't just for trendy start-ups: big brands can have them too. MT has chosen the five coolest.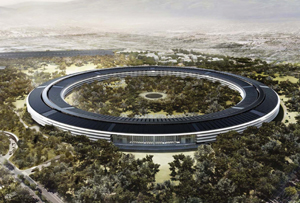 As the nature of the work we do changes, companies are cottoning on to how employees' needs are changing. While some of the trendiest have included slides and play areas in their designs, you don't need to be Larry Page or Mark Zuckerberg to have a beautiful office – plenty of blue-chips have done it, too.
1. Glaxosmithkline, Philadelphia

The drug company's new office in Philadelphia includes a tranquility room, a rooftop area and even treadmills with desks attached so employees can exercise while they work. The architects have done away with personal desks altogether – workers are encouraged to leave their belongings in a locker. Rather than sitting at a particular desk, they 'hang out' in the lobby, on sofas or on the roof terrace – the idea being that chance conversations will lead to eureka moments. Interestingly, the design means GSK has managed to squeeze its 1,300 workers into a space a quarter of the size of its previous Philadelphia HQ – so it's money-saving, as well as collaborative.