Five British startups to watch out for in 2015
From cleaners to cryptocurrencies, these startups have the potential to make it into the mainstream next year.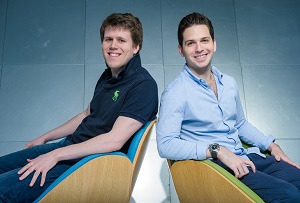 1. Hassle
Hassle founders Tom Nimmo, Alex Depledge and Jules Colman
Hassle aims to make it easier to get a cleaner. Rather than having to trawl through the internet trying to figure out who will provide a good service, you can browse reviews for cleaners in your area and book directly through the app – rather like Just Eat for cleaners. The service costs £10 per hour, around £8.50 of which goes to the cleaner.
Based in Vauxhall, London, Hassle nabbed $6m (£3.8m) in funding from Accel Partners in May this year and could be set for big things in 2015 - especially if CEO and co-founder Alex Depledge lives up to her motto, 'Get shit done.' An honourable mention goes to its rival, Mopp, which was acquired by American cleaning company Handy in September.