Five of Ryanair's zaniest ideas
Low-cost flights to America are only the latest of Ryanair boss Michael O'Leary's outrageous plans that never actually materialised.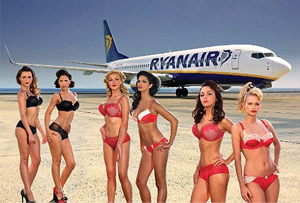 Ryanair appears to be having difficulty making its mind up. On Monday the budget airline said its board had approved low-cost transatlantic flights, tantalising punters with the prospect of reaching the States for only €10 (£8). Today, however, it announced it had spoken too soon.
'The Board of Ryanair Holdings Plc wishes to clarify that it has not considered or approved any transatlantic project and does not intend to do so', the firm said in a statement to the stock exchange that almost certainly wasn't written by outspoken boss Michael O'Leary. Just when we were getting our hopes up...
This is not exactly the first time O'Leary et al have made a public show of a policy, only for it to come to nothing (indeed, the airline has been making noises about flying to the States on a shoestring since 2007), so it might be wise to take what they say with a pinch of salt. Here are five of our well-seasoned favourites from the last few years.