Five steps to a stress-free working life
If you're suffering from high stress at work, try switching to a job that's more in tune with your needs.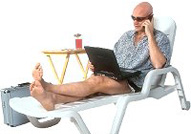 Put your ear to the ground nowadays and you hear a steady rumble of 'stress-stress-stress-stress', like a herd of bison in the distance. Whether it's a consequence of recessionary cost-cutting and downsizing or the ever more cut-throat pace of change in the global marketplace, huge chunks of the workforce seem to be stressed out by their jobs - and it's getting worse. The reasons cited are legion: jobs are no longer secure, pensions are meagre, staff are micromanaged and over-controlled, roles have been de-skilled to the point where they'd bore robots, you are routinely abused by ungrateful, ill-informed customers, the hours are long, and meaningful support is almost non-existent.
Stress is nothing new, of course, and moaning is unlikely to improve either your state of mind or your career prospects. But nor will simply ignoring it. 'In sectors as diverse as teaching and finance,' says Cary Cooper, professor of organisational management at Lancaster University, 'work has become much more stressful.'
What has changed? In the past, he says, 'senior managers tended not to suffer from stress because they had a lot of control and a lot of security. Now both have gone.'