Fiver the best for Bank Machine
It appears that we've got so bad with money that one cash machine operator is banning big bills...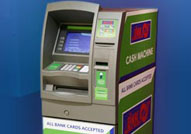 Bank Machine is doing its bit to help struggling households manage their finances better by introducing the UK's first £5-only cash machine. The operator reckons that if our pockets are full of smaller-denomination notes, we might find it a little easier to stop frittering all our money away. This might sound a bit patronising – but to be fair, nothing else appears to be working…
For the time being there'll only be one of these machines – in the Tower Hamlets area of London – but Bank Machine MD Ron Delnevo is planning a network of about 20 more throughout the UK. 'Busy sites in areas where we believe consumers would benefit from managing their budgets with smaller denominations are top of the list,' he says. And at the moment, there are plenty in need of budgetary aid…
Bank Machine is a big fan of the fiver, whose circulation has shrivelled drastically in the last few years – much like the notes themselves do if you accidentally leave them in the back pocket of your jeans. Last month it launched a 'Fight for Fivers' campaigns, which is aimed at getting the government to print more fivers as opposed to more of the new £20 notes. 'Cash circulation is of tremendous importance to the functioning of the economy and society as a whole,' says Delnevo. 'Having fivers in your wallet means less time at sales tills and less fiddly loose change'.