A flexible way to beat the January blues
With 2.4m workers calling in sick on Monday, should firms be trying harder to facilitate flexible working?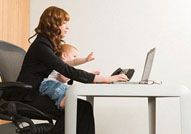 We're sure we're not the only ones who found the journey into work a bit grim on Monday morning. Just coming back from a long Christmas holiday is bad enough – leaving behind your loved ones, facing up to the prospect of 12 months without mince pies, and so on – but doing it in sub-zero temperatures, ankle-deep in slush, only served to make matters worse. So it's perhaps no surprise that a record 2.4m of us just didn't bother. That's the number of people who cried off sick on Monday, citing illness, adverse weather or childcare problems, costing the UK economy an estimated £250m. And frankly, we could do without that at the moment...
The answer, at least according to telecoms provider ntl:Telewest Business (which arguably has a vested interest here) is for companies to make it easier for staff to work flexibly, particularly from home. Its latest research found that 48% of UK workers would feel healthier without the stress and exertion of commuting (which you might argue is up there with the Pope being Catholic in revelatory terms, but we'll let that slide for now). Give them the right technology, it argues, and they'll be much happier and more productive working from home.
It also means that on days like Monday, the kind of slackers who might take one look out of the window and call in sick could be persuaded to work from home instead – as will all the honest types who were snowed in (or trapped under a pile of their children's Christmas parents). Given that the temperature is likely to remain several degrees below freezing at least until the weekend, making commuting increasingly unpalatable, this could be your best chance of getting your team working at full capacity this week.