More flexible parenting
MT has always championed flexible working – if done right, it can lead to a happier, better-motivated and more productive workforce. But the government's plans to extend this right, announced yesterday in the Queen's Speech, will have expensive implications for British businesses – so however noble its aims, it's unlikely to be universally popular.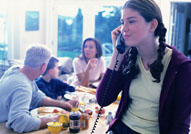 Currently parents with children under six (or with disabled children under 18) have the right to demand flexible working – and in most circumstances, employers are duty bound to provide it. The government reckons this has been so successful that it now wants to apply this principle to parents of older children, particularly those taking exams or changing schools.
This is likely to give another 4.5m people an opportunity to improve their work-life balance - a cause that MT has supported for a long time (see here and here for some early examples).
The government's theory seems to be that if working parents spend more time with their teenage children, it will encourage them to spend more time doing their homework, and less time hanging out in the park drinking cider and filming happy-slapping attacks on their mobile phones.