Is flexible working bad news for SMEs?
Opinion seems split about whether the new flexible working rules are a boon or a headache for SMEs...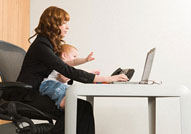 One of the most significant Government pronouncements this week was that parents of children aged up to 16 will soon have the right to request flexible working – despite Business Secretary Lord Mandelson's previous hints that the new rules might be postponed. The big business groups have been complaining that their members don't need more red tape to wade through next year – but there also seems to be a growing chorus of small business people arguing that extending flexible working could actually have a very positive impact on their bottom line...
It's easy to see why business groups have opposed the move. The extension will mean that around five times as many workers – more than 4m in total – will have the right to request flexible hours from their employer as of April next year. And with businesses everywhere battening down the hatches in expectation of a seriously testing 12 months, many groups – including the CBI, the IOD and the FSB – have argued that this is just one more regulatory hassle that employers really don't need. 'Measures to extend flexible working for parents will be an extra burden for small businesses at an already difficult time,' said FSB chairman John Wright this week.
On the other hand, some people think it's a great idea. 'Enabling people to request a working pattern that supports their extra-curricular responsibilities will boost morale, attract the best talent and increase productivity, which will in turn raise profitability,' says T-Mobile's Oliver Chivers. 'Managers should be focusing on evaluating the potential benefits of a healthy and successful flexible working culture rather than dismissing these ideas out of hand,' agrees ntl:Telewest's Stephen Beynon. Now admittedly both of these companies have a vested interest in the spread of remote working. But they're not the only advocates (for instance, lobby group Business in the Community has also spoken out in favour of the changes).