Flights of fancy in the office
More and more of us are plotting our foreign getaways when we technically should be working...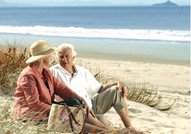 It comes as no surprise that most of us prefer to book our ski trip to Verbier/weekend in Skegness online these days. But according to a new survey carried out by Sunshine.co.uk (an independent online travel agent), 64% of us now book our holidays from our office PC, while almost everyone (93%) admitted to searching for one (if not actually booking) while at their desk. And we're not just talking about a lunchtime diversion, either: a naughty 23% confessed to booking trips during working hours...

Naturally, we've developed some excellent justifications for this blatant time-wasting. One in three of those who owned up said that they very rarely took a lunch break; hence they didn't feel guilty for taking time out of their working day to book online. A more brazen minority insisted that lunch hours were purely for eating and relaxing - so taking an extra 20 minutes out to book a holiday was fine.

But before you start rapping the knuckles of your subordinates and monitoring any web traffic through lastminute.com et al, we should probably mention that managers are just as bad themselves. 22% of bosses admitted to having booked a holiday at work, acknowledging that their staff probably did exactly the same thing. However, a conscientious 37% said it was totally unnecessary and a waste of resources (or at least that's what they told the researcher) while 10% were impartial, stating that as long as the work was completed, they weren't too concerned.

To be honest, we're inclined to think that the latter is the most enlightened view: as long as your staff are delivering as they should, why begrudge them a bit of time to book their fortnight in Magaluf? It's been a tough old year, and many people have been forced to work harder, sometimes for less reward. So letting them book - and then take - a week in the sun is probably good for all concerned. Assuming they can still afford it, that is.

In today's bulletin:
Dubai bailout boosts UK - as our deficit nears £100bn
'Don't let Kraft steal your company', says Cadbury
Bankers and accountants a drain on the state, says think-tank
Flights of fancy in the office
MT Expert's Ten Top Tips: Build trust in your organisation