Flood cover to be washed away?
The, ahem, steering of government policy by industry pressure groups has a long if not especially distinguished history in UK politics. But today's announcement by insurance trade body ABI that its members are contemplating the withdrawal of flood risk cover from the policies covering the nation's homes and businesses looks more like an open threat than a bit of quiet lobbying.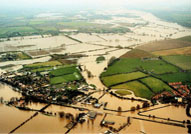 The problem, says the ABI, is one of spending. Or rather the lack of it. The £800m a year pledged for flood defence works yesterday by Alistair Darling is simply not enough. After the summer's disastrous inundations, our poor beleaguered insurers can't continue to offer us cover if they have to do so at a loss. It's not that they want to withdraw their services, you understand, but…
It seems to us here at MT that this is a bit of red herring – can't they just put the premium up? If insurers had to withdraw whole chunks of cover every time there was a rash of claims there wouldn't be many left in business by now. Not to mention the fact that the reputational cost to the industry of making good on this threat would be enormous. And if we can figure this out, so can Alistair Darling and Hilary Benn.
Perhaps what the ABI really wants to do is to focus public attention on the flood risk issue, a much more understandable aim. There is plenty of evidence that our government doesn't really take the problems of flooding, nor the likely increases in it as a result of global warming, anything like as seriously as it ought to. Why else would coastal defences be left to crumble when parts of the coastline are eroding faster than they've ever done before? Or obviously-sensible planning guidelines discouraging the building of new homes on flood plains be so widely flouted?