Flu Monday a £30m sickener for UK plc
Monday was the most common day for sickies in the entire year. But a harder line won't necessarily help.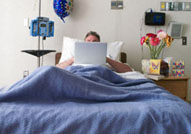 If you're reading this at your desk, and it's still Monday, well done you for resisting the temptation to pull a sickie this morning. Apparently this first Monday in February has been dubbed 'national sickie day' (not by the Government, you understand) or 'flu Monday' – because some 350,000 people are likely to take one look out of the window and call in sick. That's more than any other day in the entire year, and experts suggest it could cost the economy over £30m. But are managers making it too easy?

Not many people fancy work on a Monday morning at the best of times, let alone at the start of February when the nights are long, the weather is rubbish, and Christmas is already a distant memory. Throw in the stresses of the downturn, and it's perhaps not surprising that this could be the most popular day for sickies in 2010. And it's not just man flu and mystery headaches that are being blamed. According to a new survey by Employment Law Advisory Services, people are coming up with some weird and wonderful excuses - including one guy who claimed the road outside was too busy to cross. No wonder half of the bosses surveyed say they don't believe the excuses they receive.

What's more, says ELAS, some 25% of bosses now consider it acceptable for their staff to email or text them when they're ill, as opposed to the customary sheepish phone call. ELAS reckons dispensing with the old approach means 'the system will be open to more abuse than ever' – and it presumably does make it much easier for staff to tell porkies (lying to the boss over the phone requires a bit more chutzpah). So the obvious conclusions are that a) bosses are not being strict enough about this expensive problem, and b) the use of electronic communications is actually making matters worse.

We're not wishing to underplay the impact of persistent absenteeism; the CBI reckons the total cost to the economy is in the region of £1.6bn a year (and not surprisingly, jobs that are boring and/ or stressful tend to be worst affected). But there is an alternative reading to the stat above. That 25% who were prepared to accept electronic sickness notification were also much more likely to trust their staff – and employees who feel trusted by their boss might well turn out be more loyal, more productive and take less time off in the long run. So being more trusting isn't necessarily a bad thing...

In today's bulletin:
Ryanair profit forecast takes wing - but fares will rise too
Crozier sparks controversy with £15m ITV pay deal
Flu Monday is a £30m sickener for UK plc
Our Man in Davos: Global crises need global solutions
MT Expert's Ten Top Tips: Surviving M&A