Flybe chairman pulls ripcord on exit parachute
The former chief executive of troubled airline Flybe has stepped down as non-executive chairman after 23 years at the company.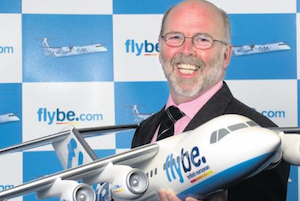 A long chapter in regional airline Flybe's history has been closed today, as former chief executive and veteran with 23 years experience at the company Jim French steps down as non-executive chairman.

French's departure (unlike many a flight) is going ahead without delays – effective immediately, he will be replaced by Simon Laffin, an ex-Safeway director.

French stepped down as chief executive in July, having spent 12 years at the helm of the small, regional carrier and took on the role of non-executive director. He was replaced by former easyJet director Saad Hammad in August, who continued the turnaround plan, shedding staff and selling-off assets in a bid to turn the fortunes of the carrier around.

It's been a tough year for many airlines (just ask the previously untouchable Ryanair) but Flybe has had a rougher time than most of late. In June it revealed its annual losses had shot up from £6.2m to £40.7m, due to falling passenger numbers and increasing fuel prices. In May it sounded a pretty loud death knell by agreeing to sell 25 of its Gatwick slots to easyJet – essentially losing its London hub.

Since then, it has been involved in hefty restructuring, with many members of senior management falling foul of the great game of musical chairs (three board members, the chief commercial officer and now French). It might be the end of French's time at Flybe – but at least Hammad had some kind words to smooth his path out of the door:

'Jim French deserves recognition as the architect of Flybe's development into a leading regional airline and, on behalf of everyone at Flybe, I would like to thank him for his contribution over many years,' said the chief executive.

With the warnings from many other airlines that it's going to be a tough winter, French might well be grateful for a warming reprieve.