Flybe drops 500 jobs as it climbs back into black
The Exeter-based regional airline has revealed it will slash 500 jobs despite returning to profit.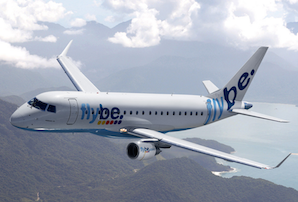 Employees of regional airline Flybe have already had a pretty turbulent year, with jobs cuts, profit warnings and a plethora of changes to management - but this morning they're waking up to the bumpy news a further 500 jobs will be cut across the business.

The news comes despite a return to profit for the troubled airline – it revealed its pre-tax profits were £13.8m for the six months to 30 September – a marked difference from the £1.6m loss it recorded a year earlier.

Chief executive Saad Hammad, who joined the airline in August, has put the return to black down to its cost-cutting programme – something he feels it would be foolish to abandon now.

'Our results are really driven by cost-cutting and we need to do more as our costs are still too high,' Hammad told The Times.

'It's not the fault of our workforce but we need to do more to become relevant and viable.'

A bitter pill to swallow for the company's 2,700 staff – who are in the dark as to who will go and who will stay. Hammad said he didn't know where the job losses would fall, 'we are consulting with unions and our staff,' he said.

Unsurprisingly, pilot's union, Balpa, has said it is 'shocked' by the move, in the face of the company's good news.

Flybe has already cut 590 jobs in the last year or so – it also slashed pilot's pay by 5%. In the summer it announced its losses had shot up from £6.2m to a whopping £40.7m – giving us a stark picture of exactly how much it needed its swooping cost-cutting drive.

This latest round of restructuring is expected to save £7m this year and £26m next year.

On Tuesday last week, former chief executive Jim French, who had been at the airline for 23 years, stepped down as chairman, bringing a long chapter of the airline's history to an end. It followed a huge reshuffle among Flybe's upper echelons, which had also seen three other board members and the chief commercial officer step down.

Flybe has suffered recently thanks to rising oil prices and the rising tax on airline tickets. But chief exec Hammad was quick to say the company's (mis)fortunes were nothing to do with competition. He took his chance to get the boot in to his rivals Ryanair and easyJet, claiming the two focus on different markets to Flybe – those of stag parties and holidaymakers – while Flybe attracts the business clients. But perhaps the dearth of printed 'Dave's Stag' t-shirts on board Flybe's aircraft isn't as wise as Hammad thinks – we hear those stag parties spend pretty big on their way to Warsaw...