Focus on people not targets, managers told
A new report suggests leaders with a controlling and target-driven approach need to think again...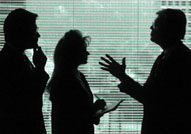 When times are tough, there's a temptation for leaders to go back to basics; they'll focus almost exclusively on numbers and targets, because that's what they're most comfortable with. But according to a new report by the Work Foundation, this is counter-productive: the best way for leaders to achieve outstanding performance, it suggests, is a 'highly people-centred approach' – to focus on stretching and enabling their staff so they can excel. We can well believe that this approach gets more out of the people they manage – but whether this leads directly to better corporate performance is a bit more debatable…

The Work Foundation's latest report is based on a two-year qualitative study of about 260 people at six big UK companies, including Tesco and Unilever – in other words, the researchers went into these companies and chatted to various people (including some senior managers) about what they thought of their leaders, and leadership more generally. The conclusion was that those considered 'outstanding' rather than merely 'good' leaders had certain things in common. Rather than focusing on tasks, they look to understand people and their motives. They develop people through challenge and support, not training and advice. They're self-confident without being arrogant. And they manage performance 'holistically' and 'systemically' (two of our least favourite words) – which means they worry as much about the mood and behaviour of their people as their organisational objectives, presumably because they see the two as interdependent.

All very commendable. But we can't help wondering whether there's a methodological problem here. If you ask staff what constitutes an outstanding leader, they're bound to wax lyrical about those who take a very people-focused approach; who do their best to address their concerns and ally them to a vision. Now it may be true that this approach makes people perform better, and that this in turn makes companies perform better. But unless we're missing something, we're not convinced this study provides any objective evidence for a direct causal link between a people-centred approach and better corporate performance. As far as we can see, it just proves that leaders who focus on people are more popular with their people.

Incidentally, the Work Foundation is run by Will Hutton, the left-leaning author whose ideas were such a big influence on the New Labour project. Since Gordon Brown is notorious for his autocratic, top-down, target-driven approach, it's perhaps a shame he didn't publish this report a few years ago.

In today's bulletin:
iPhone and Blackberry face a Kodak moment in court
Intel chipper as it smashes forecasts
Focus on people not targets, managers told
Are SMEs failing to give banks the right information?
The MT Prize Quiz 2009 - The Answers