Food and fairies failed to save M&S from the winter blues
The retailer is outperforming supermarkets but its clothes sales are still struggling.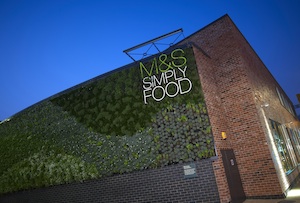 It's probably safe to say these weren't the Christmas results M&S chief exec Marc Bolland was hoping for. The retailer's UK like-for-like sales in the 13 weeks to December 27th slumped by 2.7% as womenswear and online sales continued to struggle to keep up with its more successful food arm.

In a statement today it said its autumn/winter clothing ranges had received positive feedback from customers, but this had somehow failed to translate into a sales boost, as non-food revenue dipped 5.8% on a like-for-like basis, its 14th consecutive quarter of decline.
Online sales performed particularly badly, down 5.9%, after disruption at the company's distribution centre in Castle Donnington. This delayed deliveries and forced M&S to suspend click-and-collect at times over the period as it struggled to cope with the strain of Black Friday.

'We had a difficult quarter in General Merchandise, dominated by unseasonal conditions and an unsatisfactory performance in our e-commerce distribution centre,' Bolland said.