Football going 'home' - to Russia and Qatar
As the World Cup heads east, the boss of England's failed bid says we shouldn't bid again until the process is cleaned up.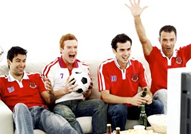 So England's much vaunted effort to be chosen as the host of the 2018 World Cup has ended in humiliating defeat, despite high-profile support from David Cameron, William Hague and even Boris Johnson and the Royal Family. Our star team failed even to get the ball into the opponent's half of the pitch never mind score any goals, and after gaining only two votes from the 22 strong FIFA panel we were eliminated in the first round.
Chief exec of the bid, Andy Anson, was so incensed by the result that he told a press conference in Zurich that England shouldn't bother trying to host it again until the transparency of the selection process is dramatically improved. 'Having only 22 guys voting gives them too much influence. Running two bids together was clearly a huge mistake. Everyone who had a vote and a bid clearly wanted to trade that vote for something that helped them get over the line in that campaign' he said.
Instead, the 2018 tournament will be hosted by that well-known centre of footballing excellence, Russia. It's a result which FIFA has said is a reflection of its desire to take the game into new territories and markets, but which has also led to jibes that football, far from coming home, is heading to Vladivostock with its tail between its legs and half a million Roubles in its back pocket. The 2022 World Cup will be hosted by another equally virgin football territory, Qatar.