Football is the perfect barometer for British society
As well as being an exciting, brilliantly researched exploration of English football, the superbly written The Game of our Lives is a vivid snapshot of 21st-century life.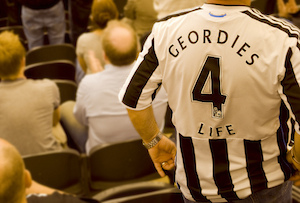 First, a warning: if you are a Chelsea fan who subscribes to the theory espoused by the club manager Jose Mourinho that the world is out to do you down, then it is probably best to steer clear of this book. David Goldblatt is no enthusiast for the gloating, gleaming west London monolith.
'There is something peculiarly mean about Chelsea,' he writes. 'They possess a spiteful, arrogant metropolitan superiority that, though present at other London clubs, receives its fullest expression here.'
For sure Chelsea is not the only footballing organisation Goldblatt disparages in his coruscating account of our national game (he is hardly an apologist for the Football Association, the Premier League or the Manchester United-owning Glazer family either). To him Chelsea sums up the venal, bullying attitudes that have corroded the sport he clearly loves. He has more fun when writing about Newcastle supporters: 'On match day, in the Sky directors' box, they were spoilt for choice: zooming in on the bare, wobbly bellies of the Gallowgate, or framing a picture of a distraught, tearful young woman, the Geordie nation was caricatured as hopeless overwrought romantics and drunken buffoons.'