There are more foreigners than Oxbridge grads at the top of FTSE 100 companies
And UK plc is not as educationally elitist as the US, Germany or France.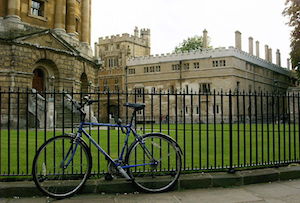 It goes without saying that going to Oxford or Cambridge University will give you a leg up in life, so it's not surprising that nearly a quarter (24%) of FTSE 100 chief executives were educated there. But it turns out UK plc is actually less educationally elitist than some of its biggest rivals, especially when you consider half of the current Tory cabinet went to Oxford or Cambridge.
In the top 100 companies in the US Fortune 500, 28% of bosses went to an Ivy League institution, while in France half of SF 120 CEOs went to one of four Grande Écoles. Germany doesn't have elite universities per se, but 38% of DAX 30 and MDAX 50 leaders have a PhD, according to analysis by executive search firm Heidrick & Struggles.
Further education is very much the route to the top in France too, with a whopping 92% of CEOs holding a post-graduate degree of some description. Even though 65% of FTSE 100 bosses have a masters degree or higher, UK plc is still the least educated of the lot.