Foreigners sell British energy assets to other foreigners
Few eyelids bat, as the Chinese buy the UK's biggest electricity network from the French.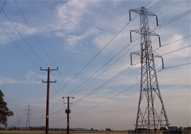 We can't help feeling that the £5.8bn sale of French company EDF's UK electricity distribution business, to a consortium headed by Hong Kong zillionaire Li Ka-shing, would have generated a lot more headlines elsewhere. This is, after all, the UK's biggest such network, covering London, the South-East and East of England - so if someone decided to pull the plug, that's a lot of people left without any lights. But we're so used to foreign companies buying UK infrastructure like this that few people are likely to bat an eyelid about this crucial network passing into Chinese hands. Although it seems rather a shame that the solid reliable returns from these assets are draining out of the country...

EDF had put the network on the block earlier this year, as it tries to pay down the fat debts it racked up when buying British Energy (or Franco-British Energy, as we perhaps ought to call it now) for around £12bn last year. And the good news is that the price tag came in higher than expected, apparently (so rumour has it) because the Hong Kong lot got into a bidding war with international infrastructure funds from the likes of Australia and Abu Dhabi. These are attractive assets for investors, because they produce reliable returns over a long period of time - ideal for pension funds.

The network's new owner Li is no stranger to the UK - as part of his gazillion-dollar business empire, he owns various assets in this country, including distribution business Northern Gas Networks - so he already knows the industry pretty well. He also owns Superdrug, and if you've successfully popped in there recently for a can of Coke, some eyeliner, a hairbrush and some prescription medicine, you'll know that he hasn't done anything too heinous to that particular great British institution.

Over in India this week, David Cameron and Vince Cable have been warning of the dangers of 'economic nationalism' and boasting about Britain's 'open and welcome' economy, in the hope of attracting more business from the subcontinent. It's certainly true that unlike many countries we could mention, the UK seems perfectly happy to sell assets like this to the highest bidder, whatever their nationality (whereas the French even consider yoghurt-makers to be crucial to the national interest). And while we think that this is a good thing in principle, it does seem a shame that someone else's pensioners get to benefit from these reliable returns, rather than ours...
In today's bulletin:
It never rains, but it pours (ash) for BA
Foreigners sell British energy assets to other foreigners
Fairytale ending for Miramax as it's snapped up by VC firm
We'll drink to that - beer sales up for the first time since 2006
Will scrapping the DRA mean more red tape for SMEs?