Forget your green credentials - hire some apprentices
Offering apprenticeships to young people may attract customers, research has found.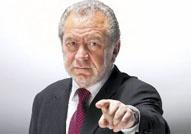 In a recent poll by the National Apprenticeship Service, 81% of respondents said they would rather use a business that offered apprenticeships. This was the same number as those keen to support businesses with fair trade agreements, and more than the 77% who sought out companies with impeccable environmental credentials. So if this survey is to be believed, apprentices have good PR value even if your name's not Sir Alan Sugar.

Apprenticeships probably seem like a rather old fashioned idea to many people, but they do appear to be making a comeback. We should probably give Sir Alan some of the credit for this, to be fair (especially now the Amstrad founder is working for the Government to promote the cause). But it may also be a consequence of the fact that although more young people are going to university, fewer and fewer seem to be entering the workforce with any kind of vocational skills.

Of course it's easy to tell a researcher that you'd change your consumer habits, and rather more of a hassle to actually do so. And it may seem a bit hard to believe that as many people would get worked up about apprenticeships as about the environment or fair trade. Nonetheless, 81% is a pretty sizeable number. Even if some of them were just too embarrassed to admit they weren't really bothered (or didn't want to disappoint the nice man/ lady from the NAS), there's presumably still a fair number who would be willing to change their behaviour. With stories of record youth joblessness all over the news, people may be keen to support any scheme that makes the yoof of today more employable.

And the National Apprenticeship Service insists that an ethical image isn't the only benefit of such schemes. 'We know from previous research that 80% of employers agree that apprentices make their workplace more productive,' says chief exec Simon Waugh.

We suppose it's a bit like football clubs. When it comes to acquiring talent, there are two ways to go about it: one alternative is to splash out on a ready made star or two, with all the additional salary implications but immediate results. Alternatively you could take the longer, but hopefully more sustainable and cost effective route, of building talent in your own academy. Although the risk for smaller outfits, of course, is that they invest a lot of time and money in someone who decides that their new skills could land them a more lucrative deal at a bigger club.

In today's bulletin:
Bonuses under the cosh - so bosses take bigger salaries?
Double trouble for BA as regulator and unions weigh in
Google wants a piece of Apple in smartphone war
Forget your green credentials - hire some apprentices
MT Expert's Ten Top Tips: Reducing employee absence