Forget the internet - rats and rubbish are the future
Entrepreneurs wanting to make a fast buck should apparently start looking at waste and pest control...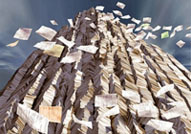 These will be the two fastest-growing SME sectors in the next few years, according to a new report by financial services research firm Finaccord. It reckons that the number of smaller firms in the pest and vermin control service sector is going to rise 17% by 2013, while businesses offering scrap and waste disposal services are going to see their numbers swell by 15%. Not as glamorous as the tech sector, perhaps, or as close to the Government's heart as manufacturing (which by contrast will shrink dramatically), but possibly more lucrative. After all, there's a lot of money in doing jobs that most like-minded people don't even want to think about. Where there's muck there's brass, and all that…
You probably don't want to know why we're going to need more pest control firms, but we're going to tell you anyway. Chief culprit is apparently the rise in the pigeon population (bringers of disease and pestilence, whatever Pigeon Street would have us believe), while the report's authors also reckon that our obsession with foreign travel is importing more dodgy bed bugs and tropical ants into the UK. And of course there's climate change, which is persuading lots of dodgily-moustachioed pests from the Continent to bring their filthy ways to these shores. All of which adds up to a 17% greater need for people who can kill such things with traps, poison and/ or chemicals.

As for waste, the opportunity there is obvious. Now we're consuming so much stuff, and running out of places to put it, people the world over are scrambling to find more efficient and more environmentally friendly methods of waste disposal. So anyone who can work out a way of turning supermarket plastic bags into a swarm of bees or a swathe of rainforest is going to be a zillionaire before they can say 'Al Gore'. (In fact, the prediction of a 15% rise sounds conservative, if anything.)

But while Finaccord expects these and other sectors (e.g. film and video production, barristering and even event organisation) to remain fertile furrows, the next few years will apparently be very bad for some parts of the SME world. Take local shops, for example: it reckons that the voracious growth of supermarkets will see the number of bakeries, delis and newsagents drop by 12% in the next few years. That's not a very appealing prospect, although some would argue it's just capitalism's 'creative destruction' – certain sectors wax as others wane, and the clever entrepreneurs will spot which way the wind is blowing.

Besides, if they fancy a career change, any newsagents with a large post-school crowd should at least be good at dealing with pests.

In today's bulletin:
False dawn for auto industry as new car sales soar?
Berkeley sees green shoots - but commercial property reeling
Primark in a sweat over exploitation claims
Forget the internet - rats and rubbish are the future
Lady Geek: The 10 best gadgets to buy this Christmas