Former Co-op bank chairman comes down with Colombian cold
The man who chaired the Co-op bank through its near death experience has been videoed buying a cocktail of drugs.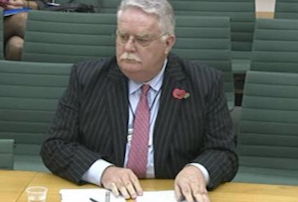 Those mourning the loss of Breaking Bad have had a rare treat this weekend, as it emerged Paul Flowers, former chairman of the Co-operative bank, was filmed buying a cacophony of drugs (including crystal meth), shortly after he appeared in front of MPs to talk about the bank's near collapse.

The sting, organised by The Mail on Sunday, captures Flowers handing over £300 in a car, seemingly buying cocaine and crystal meth, as well as inquiring about ketamine (come on Flowers, ket is soooo 2010).

Flowers, a 63 year-old Methodist minister, resigned from the bank in July and appeared before MPs at the Treasury Select Committee at the start of November – (the video was filmed five days later). The stress of dealing with the £1bn hole in the Co-op's balance sheet, as well as the death of a loved one, have been cited as reasons behind his drug use.

'This year has been incredibly difficult, with a death in the family and the pressures of my role with the Co-operative Bank,' said Flowers yesterday.

'At the lowest point in this terrible period, I did things that were stupid and wrong. I am sorry for this and I am seeking professional help, and apologise to all I have hurt or failed by my actions.'

Having proven he's more methadrone than Methodist, Flowers has been suspended from his duties at the church – pending the investigation.

Certain questions have been raised about how a Methodist minister came to be the chairman of one of the UK's banks in the first place. He has no banking experience on his CV until his appointment to the Co-op. Ironically, he was director of a drug abuse charity called Lifeline for some time (probably where he learned all his drug smarts) and he was also vice chair of the Association of Citizen's Advice Bureaux for a time.

But essentially, not a banker, until he was approved by the FSA as chairman - something many have queried. The move has clearly not been a good one for the minister. Alarm bells started ringing when he stumbled over the Co-op's figures in front of the Treasury Select Committee - saying the Co-ops total assets were £3bn, rather than the actual figure of £47bn.

In addition to the video, a series of text messages to 'a friend' have been released, no doubt causing a series of increasingly hard face plants from Flowers.

'Am in London tomorrow for my appearance before the Treasury Committee and won't be back till after Midnight. Do u like ket?' said one generous text.

'I was 'grilled' by the Treasury Select Committee yesterday and afterwards came to Manchester to get wasted with friends,' said another.

Followed by his description of one of his parties as, 'turning into a two-day, drug-fuelled gay orgy!!!' Lovely.

MT doubts this particular 'friend' will be privy to any more of Flowers' parties.