Former Co-op Bank execs banned for life
The bank's 2013 scandals took an immediate toll on its 'ethical' reputation, but punishment is still being dealt out now.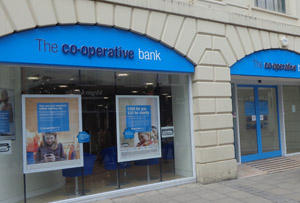 The fallout from the Co-op bank's near collapse in 2013 has been significant and drawn out. The latest remprimand has focused on two of the top dogs at the height of its woes – former CEO Barry Tootell and the ex-head of corporate banking Keith Alderson. Both have been banned from the City for life by the Bank of England.
On top of that, they've both been hit with hefty fines. Tootell has to cough up £173,802 for 'prioritising the short-term financial position of the firm at the cost of taking prudent and sustainable actions to secure the firm's longer-term capital position', according to the BoE's Prudential Regulatory Authority. Alderson was fined £88,890 and came under fire for not properly assessing the risk of the corporate loan book inherited from Britannia, the building society that merged with Co-op in 2009.
The regulator also criticised the Co-op Bank's culture, which reportedly resulted in 'an environment in which some staff felt under pressure to meet impairment forecasts'.